Sign up for our email newsletter!
Help Me Grow Affiliate Response to COVID-19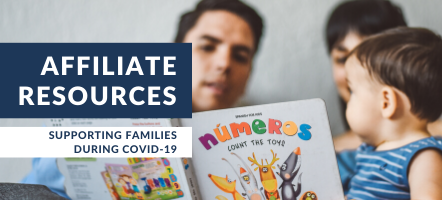 We are living in unprecedented times. The events over the course of the last weeks have presented some of the most uncertain times our nation has faced, and the implications of the novel coronavirus disease (COVID-19) are still continuing to evolve in unforeseeable ways.
Despite this, the Help Me Grow National Center is both comforted and emboldened to know that efforts by the Help Me Grow National Affiliate Network have always been dedicated to promoting the health, well-being, and fortitude of families in communities all across our country. Affiliates have stood alongside families with young children long before this public health emergency. In the face of this challenge, we are inspired to witness affiliates nimbly and skillfully adjusting the playbook to double down on this unwavering commitment to families, even in the face of great disruption and insecurity.
At the HMG National Center, we are reinforcing our dedication to the National Affiliate Network and the families you serve, by committing our energies to empowering the efforts of Help Me Grow affiliates. To do so, we have first established a COVID-19 resource hub of emerging and promising practices by affiliates across the country, best practices and guidance from national partners, and other reference material that can support us all as we seek to identify new ways of providing families what they need amid an evolving and amplified set of challenges.
To aid in the development of this clearinghouse, we are asking that HMG affiliates and national partners fill out this brief survey to collect information on your community's needs, challenges, and the developing impact of COVID-19 on your approaches and priorities related to young children and families.
Our collective work to build a more comprehensive, integrated early childhood system is more essential now than ever. We have witnessed the importance of ensuring all families have equitable access to the supports and services that foster their children's healthy development. Yet, as our country faces this pandemic, we have also witnessed the reality that many families are being left without a safety net.
Maintaining connection is our greatest source of strength in these times. We feel profoundly grateful to be your partner as you persist in helping families connect to critical resources and support their children's development, especially now. We will continue to share ideas and approaches that help you help families throughout this global pandemic, so check our COVID-19 resource hub often. Please reach out to partner with us should you identify ways the HMG National Center might be able to support your efforts to safeguard families during this urgent and uncertain time.
Together, we will do what it takes to care for each other, for our communities, and for young children and their families.