Sign up for our email newsletter!
Help Me Grow Washington: Stories from the Field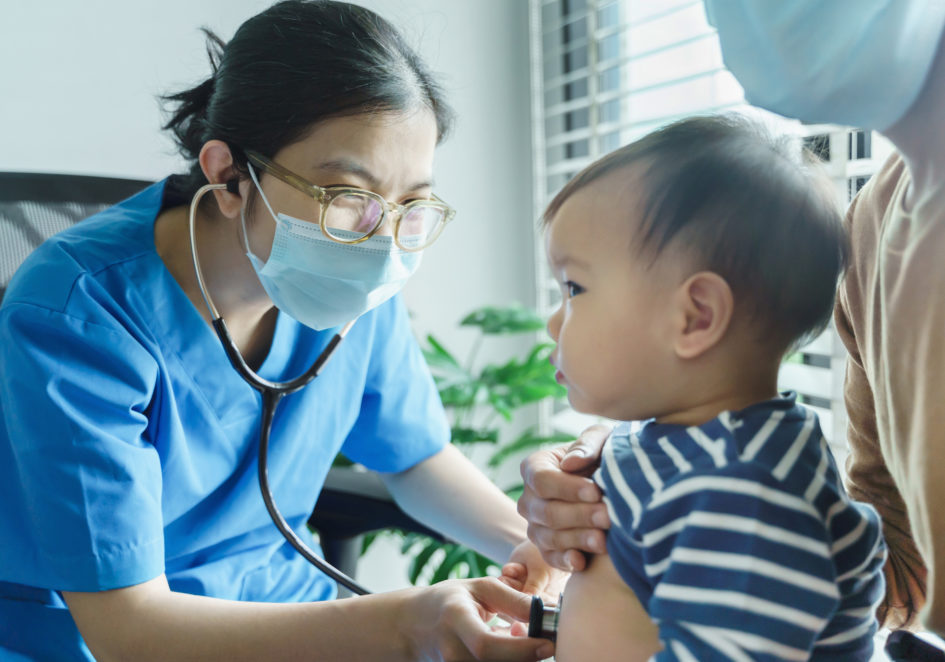 This new blog series is dedicated to health care providers and health care systems. We'll tell stories about what it's like to be a provider working within a Help Me Grow (HMG) system, provide resources specific to providers, and share ways that health care providers can use the Help Me Grow Coordinated Access Points to help their patients get connected to resources and services. Our first entry for this series comes from our friends at Help Me Grow Skagit County.
In the first year of life, it's recommended that a child see their provider at least six times before their first birthday. There's a lot to talk about during those six visits. Having a trusted person that caregivers can speak with when they have questions or concerns is vital, but in those conversations it's also important that health care providers have a way to connect their patients with resources outside of the clinic. That's where Help Me Grow comes in. Providers can count on HMG to help families and caregivers more easily access resources and supports.
Learn more about Help Me Grow
Help Me Grow Skagit Shares Their Provider Champion Journey
Stretching from the Puget Sound into the North Cascades Mountain Range, Skagit County is home to nearly 130,000 people as of 2021, and 21 percent of the population is under the age of 18 and 5.4 percent are under the age of 5. Help Me Grow Skagit has been a Help Me Grow system since 2020. I was joined by Jennifer Sass-Walton from Skagit County Public Health, Lyndie Simmonds of United General District 304, and Dr. Francie Chalmers, the HMG Skagit Provider Champion. The three of them shared what it's like working on Health Care Provider Outreach in the county.
A tenet of the Help Me Grow Model is to build off what already exists in the community. Before Help Me Grow Skagit, there had been collaborative work involving both governmental and non-governmental organizations to develop a First 1000 Days Community Health Improvement Plan. This plan focused on how the community could better support maternal and child health, and make health care more accessible. One strategy born from that work was the precursor to Help Me Grow: Skagit Bright Beginnings. Bright Beginnings was focused on the need to strengthen resource connection and worked toward providing a resource hub for families in Skagit County.  
The buy-in from the community, the desire to provide resource navigation, and strong commitment by the health care system built an environment that made it possible for Help Me Grow Skagit to form. As pieces of the system started to come together, Jennifer and Lyndie turned their focus to finding a local provider champion who was dedicated to improving early childhood health and development.  
"We knew how important a physician champion would be."
– Lyndie Simmonds
Finding Their Provider Champion  
Help Me Grow Skagit began their search for a champion who could advocate for changing clinical practice to better support children and families outside of the provider office. The county had recently been home to the Pediatric Transforming Clinical Practice Initiative (P-TCPi), which called for a regional provider champion to support quality improvement efforts. Knowing there was a job description that could be a template, Jennifer and Lyndie contacted Dr. Francie Chalmers, who had been in that regional role.   
Dr. Chalmers retired from Skagit Pediatrics and was passionate about improving the health care delivery system. When Dr. Chalmers came into this role, "there wasn't preparation that Jennifer and I did without her," Lyndie explained. While some might have approached onboarding in the traditional job-sense, Jennifer and Lyndie worked collaboratively with Dr. Chalmers to figure out what their plans would be for this new role.  
Trying to champion a new process in the middle of a pandemic inspired the Skagit teams to shift gears and focus on providing continuing medical education credit opportunities. Providers still needed professional development credits to maintain their licenses, and HMG Skagit felt like this was something they could offer.  
They also turned to Pierce County who had already been implementing the Help Me Grow system for a longer period of time. Dr. Mary Ann Woodruff and Taylor Caragan from Tacoma-Pierce County Health Department shared their experiences and recommended that HMG Skagit start piloting Help Me Grow with one clinic. This approach would be reinforced as they started outreach to clinics in the community.  
When Dr. Chalmers stepped into the Provider Champion role, it would be close to six months before the local Skagit Family Resource Navigator would be hired. Not having the person who would be handling calls and referrals made it difficult to message the value of Help Me Grow. They weren't able to share, as Dr. Chalmers explained "the details of how Help Me Grow would work for them." This was an unexpected obstacle, but finding the right person was not a process to be rushed.   
Once the Family Resource Navigator was hired, Dr. Chalmers shared that there was a "tremendous variety in terms of reception" when they began dropping off Help Me Grow awareness baskets to different pediatric clinics in their county. Some individuals showed genuine interest in Help Me Grow, and others explained that they didn't need Help Me Grow services. "This is all about relationships," Jennifer stated. It was clear that it was going to take continued effort by HMG Skagit to build relationships with key people in the clinics.  
Starting With One  
In the spring of 2022, the team focused on Skagit Pediatrics as the first clinic to build a relationship with. They started with a group of behavioral health providers, as well as their behavioral integration specialist who was managing referrals internally. This conversation helped clinic staff describe scenarios for when they would refer to HMG or when they wouldn't. This insight was helpful for the HMG team to understand the process of making and managing referrals at the clinic.  
Since then, the Skagit Family Resource Navigator has started receiving referrals from the clinic. As more referrals come in, the team hopes to learn from the data more about resource connection, and what strengths and gaps the community has.
Advice To Others  
I asked Dr. Chalmers what advice she had for providers who might be on the fence about stepping into this role. She said that for her, it was an "opportunity to increase my awareness of what's going on in the community and see and learn all the great things that other clinics are doing … It's rewarding to see boots on the ground; the way Help Me Grow is making a difference in helping providers and families get where they need to go." Dr. Chalmers also said there are manageable efforts someone could take on as a Provider Champion for Help Me Grow without having to overcommit themselves. The Help Me Grow Skagit team reiterates the point of finding funding to compensate someone for their time though.   
It's important to note that the Provider Champion doesn't act alone. Provider outreach is a team effort and involves a dedication to building relationships in the community. 
Key Takeaways
Build on existing work and systems
Be flexible when working with health care providers and systems as priorities shift
Start small, build strong relationships
Where To Next?  
Two years into a pandemic, clinics are finding a new way of being and are open to ideas that strengthen their ability to provide comprehensive care. HMG Skagit's outreach efforts have shown that every clinic is going to look at Help Me Grow in a unique way, but what remains the same is focusing on building and solidifying relationships and adapting referral processes to match the needs of each clinic.   
HMG Skagit will continue to build upon offering continuing medical education credits. This next year will focus on Childhood Developmental Milestones and will bring in subject matter experts to connect participants to local resources and services like Help Me Grow Skagit. The long-term series is made possible by a partnership with Skagit Regional Health which further highlights how important partnerships are in making a Help Me Grow System sustainable.  
Stay up to date with HMG Skagit on their beautiful new website, where you can find a page specifically for providers. If you're a provider in the community, you can also sign up for their newsletter, where you'll get content based on the upcoming continuing medical education credit opportunities as well as insight from Dr. Chalmers herself.  
My immense gratitude to Jennifer Sass-Walton, Lyndie Simmonds, and Dr. Francie Chalmers for sharing their story and for their commitment to this work.  
Jackie Litzau is the Partnership Manager for Child Health at WithinReach. She works on outreach to and engagement with health care providers and communities interested in Help Me Grow Washington. She has worked on public health and health care efforts in Oregon and Washington and is passionate about making services and supports more accessible to children and their caregivers. When she's not working, she's trying out new hobbies, spending time with family and friends, and trying to find the best horror movie.